Monetary Unit – MKD – Macedonian Denar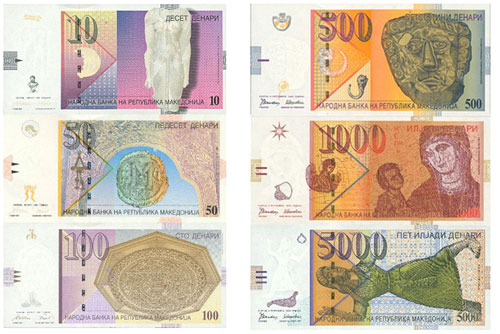 The Republic of Macedonia obtained its currency in the year 1992, soon after the separation from Yugoslavia, when coupons were introduced as transitional money. In the year 1993 the denar was introduced.
MKD – Macedonian Denar
The Macedonian Denar is the currency of Macedonia. Our currency rankings show that the most popular Macedonia Denar exchange rate is the MKD to USD rate. The currency code for Denars is MKD, and the currency symbol is ден. Below, you'll find Macedonian Denar rates and a currency converter.
Country
Code
Currency
Unit currency
Middle exchange rate in denars
EMU
978
Euro
EUR
1
61.4936
USA
840
US dollar
USD
1
57.5675
U.K.
826
British pound
GBP
1
72.8770
Switzerland
756
Swiss franc
CHF
1
57.5459
Sweden
752
Swedish krona
SEK
1
6.4117
Norway
578
Norwegian krone
NOK
1
6.7506
Japan
392
Japanese yen
JPY
1
0.5289
Denmark
208
Danish krone
DKK
1
8.2674
Canada
124
Canadian dollar
CAD
1
43.0839
Australia
036
Australian dollar
AUD
1
43.4430
Bulgaria
975
Bulgarian lev
BGN
1
31.4417
Czech Republic
203
Czech koruna
CZK
1
2.2981
Hungary
348
Hungarian forint
HUF
1
0.1967
Poland
985
Polish zloty
PLN
1
14.5159
Romania
946
New Romanian leu
RON
1
13.6108
Croatia
191
Croatian kuna
HRK
1
8.2686
Turkey
949
Turkish lira
TRY
1
15.5984
Russia
643
Russian rouble
RUB
1
1.0268
Brazil
986
Brasilian real
BRL
1
18.5255
China
156
Chinese yuan renminbi
CNY
1
8.3637
Hong Kong
344
Hong kong dollar
HKD
1
7.4053
Indonesia
360
Indonesian rupiah
IDR
1
0.0043
Israel
376
Israeli shekel
ILS
1
15.7064
India
356
Indian rupee
INR
1
0.8911
Korea
410
won
KRW
1
0.0504
Mexico
484
Mexican peso
MXN
1
3.1015
Malaysia
458
Malaysian ringgit
MYR
1
13.0524
New Zealand
554
New Zealand dollar
NZD
1
40.4936
Philppines
608
Philippine peso
PHP
1
1.1589
Singapore
702
Singapore dollar
SGD
1
41.1686
Thailand
764
Thai baht
THB
1
1.6759
South Africa
710
South African rand
ZAR
1
4.3002
Exchange rate for: 19.04.2017
Latest exchange rate click here